At AES Global Telecom, we take immense pride in offering the most competitively priced SIM packages for GSM/cellular-controlled products available in the market.
What sets us apart and gives us an edge in this field is the fact that our parent company is a world-leading Intercom manufacturer. This invaluable connection allows us to have a deep understanding of the industry's demands and needs, enabling us to tailor our SIM solutions to perfectly complement GSM-controlled products. With our expertise and extensive experience, you can trust that we provide top-tier services and reliable connectivity that will undoubtedly enhance your communication and security systems.

WHO are we?
AES Global Telecom are a subsidiary company of the intercom manufacturer AES Global. Our mission is to provide the most cost efficient solution to sim based GSM products and aim to activate your sim within 30 minutes

Headquartered in Ireland, with offices in the UK, France, and Florida we are confident we have a solution for you. If you frequently install GSM products, then please have a look at our Installer Code page in order to earn recurring revenue from every SIM card registered.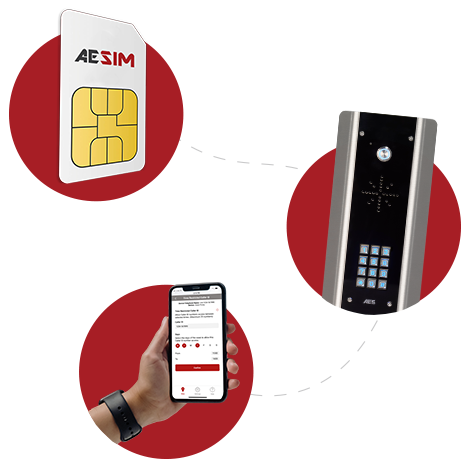 WITH our packages we get you connected!
AES Global Telecom was founded solely with Cellular GSM controlled products in mind, GSM Intercoms have been manufactured by our parent company (AES Global Ltd) since 2007 and needed the most cost effective and best coverage for various territories worldwide. AES Global Telecoms was established to fill that market need.

Our sim packages provide the best network coverage using some of the worlds largest cell/mobile phone networks such as AT&T, Vodafone, T-Mobile, and O2. Our packages provide the best coverage for your GSM/Cellular product at the most cost-effective prices.

Our partners
At AES Global Telecom, we take pride in our partnerships with industry leaders. Collaborating with top-tier network providers, and service providers, we ensure that our customers have access to unmatched connectivity and services. These strategic partnerships enable us to deliver reliable network coverage, fast data speeds, and exceptional call quality. With our trusted partners, we bring you a seamless experience that keeps you connected anytime, anywhere. Trust in our partners to deliver the reliability and performance you deserve.